JKR Rumor Debunked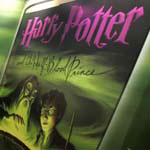 Oct 31, 2003
Uncategorized
In October, it was reported :
" JK Rowling publicly said 'Harry sustains a minimal but lasting injury in this [the sixth] book.' It is also reported to be roughly just under the length of GoF and will most likely be done by early January. (The first draft.).
We've got word from an irrefutable source that Rowling never said this. Strike a big X through it. Happy Halloween!