The Draco Origami Mystery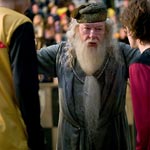 Nov 08, 2003
Uncategorized
A lot of you wondered what's going on with the origami swan Draco's got in this picture – so did we.
Today, editor Megan and I had the extreme pleasure of interviewing and just plain hanging out with Jamie Waylett, otherwise known as Vincent Crabbe. We will have a LOT of coverage, pictures, even funny movies, from today up very soon. What can we say about spending time with Jamie? In his company in ESPN Zone, we had trouble remembering that we are not 14, and that air hockey and basketball should not be played in high heels. Along the way, we also forgot that he is a celebrity; this absolutely darling young man is as down to earth – and as just plain cool – as they come.
We asked him about the bird, and he cleared it up: Draco, while faking injury from Buckbeak, draws a picture of Harry being electrocuted by a lightning bolt; he then folds it up like so and it actually flies over to Harry, who is less than pleased upon receiving it.
Also note the rings Malfoy, Crabbe and Goyle are wearing; they are tiny silver snakes, and the kids also have tie clips. A touch from Cuaron, only these Slytherins wear the ornamentation; it was decided amongst the kids the jewelry was a gift from Lucius Malfoy.
Also, look where the kids' textbooks are open, and note why Draco would even dare to pass a note so openly. This is Lupin's class that Snape takes over, and they are indeed reading about werewolves.
Lots more to come.
For now here's a little preview in the form of Jamie's best Alfonso Cuaron imitation. (Explanation forthcoming – and believe us, we had to ask too.)
Update: The much-touted translation and explanation:
Jamie is saying "You checka the gate? No, *I* checka the gate. We checka the gate? He checka the gate? I don't know who'll checka the gate.Ah, cut." (Thanks to reader Complexity for the transcript.) We had no idea if he meant the gate to…Hogwarts, Hogsmeade, his own house… Anyway, the gate is a little window behind the camera lens where film passes through the camera and frames get exposed. Checking the gate after a shot is complete means taking out the lens and making sure that no little bit of dust or hair (etc) got into the frame and ruined the shot. Apparently it's normal to check the gate when a shot is good and you want to make sure it hasn't been ruined, but Cuaron checks it very, very frequently, and it's become a bit of a joke with Jamie and his friends.