Hi-Res POA Pics!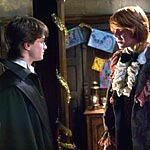 Nov 10, 2003
Uncategorized
We've got some hi-res versions of the pics that have appeared this week from the movie – enjoy! Check out the gorgeous background in the Snape-Trio pic, and the first real clear shot of Lupin's face in the Gambon pic. I left the one of the dementor-hand ridiculously huge so that you can see all the gory detail. Yuck.
The plain links to the pics (no popup, for size reasons):
Dementor hand
Aunt Marge
Snape and the Trio, most likely on school grounds at the end of the film
The Trio on a hill, probably leaving Care of Magical Creatures, judging by the books under their arms
Michael Gambon as Dumbledore at what looks to be the Welcome Feast
Have you seen this wizard? – that is most likely Ron and Hermione walking next to the poster.