Cho Chang Casting Rumor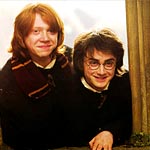 Nov 11, 2003
Uncategorized
Several TLC readers have reported to us that ex-soap actress Michelle Ang has auditioned for the part of Cho Chang in Goblet of Fire.
We suggest that you take this with a grain of salt, as you have with previous rumors – Ang is five years older than Daniel Radcliffe, which, while possible, seems like a bit of a stretch to us.
UPDATE: I added a link to a photo of Michelle, and have received email from several readers who've pointed out that at least one fan site states that Michelle has denied the rumor.