SPECIAL REPORT: TLC Visits the Set of Prisoner of Azkaban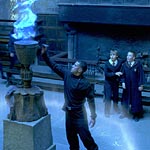 Nov 13, 2003
Uncategorized
On top of a day full of SO much excellent news – the start of the Second Annual Get A Clue Campaign and the release of the first Prisoner of Azkaban Trailer (which, don't forget, hits theaters with Loony Tunes!) – we are very proud and happy to announce that this October, TLC took part in a special visit to the set of Harry Potter and the Prisoner of Azkaban.
Invited along with a few other online media outlets, I was able to see first-hand all the gorgeous spaces and places that produce the films. We went everywhere from the Boys' Dormitory (gold constellations woven into the red velvet bed hangings), to Hogsmeade and Honeydukes (there are no words), to the tunnel that leads to the Shrieking Shack (trying to climb through it made me scream) and even to the absolutely breathtaking Great Hall (I insisted on being led in with my eyes closed – opening them made all the hairs on my arms stand at attention).
We also had a wonderful interview with the Trio (you'll find out about Rupert's new fear, the jokingly suggested alternative to the Time Turner and how the boys really feel about Crookshanks) and Robbie Coltrane (techno-nut). We met Crookshanks, Fang and Hedwig. We even met Alfonso Cuaron briefly, and went on to watch him direct a crucial scene near the end of the film.
As the resident Harry Potter fanatic on the trip, I took notes in excruciating detail and audiotaped everything – so stay tuned, because there's a lot more information coming.
The downside is that it isn't coming until at least January. I've got to keep the lips zipped until then – which, trust me, is as hard as it sounds. Stay tuned!