J.K. Rowling on Multiple Sclerosis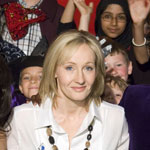 Nov 16, 2003
Uncategorized
J.K.Rowling has written a piece in the Sunday Herald on what the disease is, and how important it is to support and fund research, as well as set minimum standards of care for those with the disease; and what it was like to lose her mother to multiple sclerosis:
I used to miss being able to call Mum when I was miserable, though I've got used to that. Now it is the wonderful things that make me miss her most. On March 23, I gave birth to my second child, a son. My in-laws came down from Aberdeen to see him that evening with an enormous teddy made of a lamb's fleece and we all sat and tried to decide whom the baby most resembled. It was one of the happiest evenings of my life, but after they had all gone home and left me in the hospital, I sat with the sleeping David in my arms and cried at the thought that my mother would never see him, never hold him. She would have been a year older than my mother-in-law, had she lived; she ought to have been sitting beside Barbara, vying for the first hold of David. She missed so much.
J.K. Rowling is a patron of The MS Society of Scotland. You can also view this Google search for links to foundations in other parts of the world, as well as for more information on the disease.