Wrap Party Report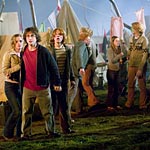 Nov 24, 2003
Uncategorized
Hey all, we've got a great report in about last night's PoA Wrap Party! Check it out:
It was a very cold and very very wet night, but a good time was had by all despite the weather!
Hundreds of cast, crew and their families attended a fantastic fireworks display set to music (including "Something wicked this way comes), that was every bit as good (if not better) as what Disney could provide.
Dan, Rupert, Emma, Tom, Jamie, Josh and other cast members (no adult actors) were in attendance, as well as Alfonso Cuaron and various producers.
In the giant tents soft drinks and hot chocolate with marshmallows and candyfloss were served to the children, with the adults drinking mulled (hot) wine and beer. Food included hot dogs, burgers and filled jacket potatoes.
Entertainment included magicians, conjurers and a Mexican band, who played beside the Knight Buses.
Cuaron heard about Jamie Waylett taking the mickey out of him on TLC and wanted him to "do it again!" He performed his "checka the gate" routine – Alfonso and his wife were in hysterics!
Sounds like a lot of fun! More fun stuff coming tomorrow!