Cuarón & Potter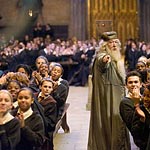 Dec 10, 2003
Uncategorized
Cine Premiere Mexican film magazine has an article this month about Prisoner of Azkaban, as well as a short "20 Mexicans that made it in 2003″, which includes Alfonso Cuarón. TotallyHarryPotter.org was kind enough to send us the translation.
Thanks, Fran!
MEXICAN MUGGLE TOUCH
We will see the next 'Harry Potter' with the style of 'Little Princess' and 'Great Expectations', because now it was Alfonso Cuarón's turn to print his Mexican mark in this Londoner world, full of magic and ghosts.
Just 40 minutes from London we can find the Leavesden Studios, a place which once worked as an aerodrome and which is now Harry Potter's home. There, many sets for Prisoner of Azkaban, movie in which Harry, Hermione and Ron say goodbye to childhood and start dealing with teenage problems, have been made. Cuarón took advantage of this change and modified the characters' look, creating a more contemporaneous appearance; he also selected Emma Thompson (professor Trelawney), Gary Oldman (Sirius Black) and Michael Gambon (Dumbledore) to join the cast.
To walk across the buildings and constructions that have given life to this saga is a sample of all the care that the art, direction and production teams have put to recreate J.K. Rowling's books. The architecture is inspired in the city of Oxford; and in this occasion , some stages have been touched by the director's Mexican spirit, who added some eagles devouring a serpent [just as in the coat of arms of the Mexican Flag) at the top of the Clock Tower.
Before watching how they filmed the scene "Harry receives his new broom", we visited Hagrid's hut, whose living room was full with armadillo cages, porcupines and more animals to give away a little more about his personality: here we were also able to visit his bedroom, a new set with a bed that has a giant's proportions and which is decorated with a teddy bear. Another stop was Hogsmeade, the town in which students spend the weekends; and even though they didn't exactly broke their heads to create it — as it is the same one they used for Diagon Alley –, it's astonishing to see the perfection they used for some stages, for example, Honeydukes. Every single candy, chocolate and sweet is real and is packed with the magical trademark's seal.
Between secret passages, charmed books and Dementors, Prisoner of Azkaban is postulated as one of the most awaited movies for Summer, 2004.
_____________________
20 Mexicans that made it in 2003
Alfonso Cuarón
Cuarón spent a magical year, not only because of his Oscar nominee for Y tu mamá también's script (between other recognitions he kept receiving for this movie, two years after its creation), but also because of his domain upon Hogwarts and Harry Potter's world. He had a large shooting time with Harry Potter and the Prisoner of Azkaban, which should be ready for June 2004. He also won an Emmy for his work as a director in the commercial Fish and he was executive producer of The Assassination of Richard Nixon.