Filmjerk: WB says "not happening" on Stuart Baird as director of OotP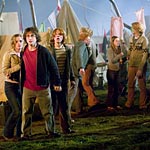 Dec 17, 2003
Uncategorized
Filmjerk did a little further digging into the highly improbaby rumors of Stuart Baird directing the fifth Potter film:
The reaction from the press department at Warner Bros.?: "We are not even thinking about a director for the fifth film yet…

Another person from within Warner Bros., who asked that he not be named: "I haven't heard that name mentioned internally, and, with the interest and talent interested in directing the franchise, I really doubt they would bring in someone whose last film killed off the "Star Trek" franchise, although it was hardly his fault alone."

…

And another person, who also asked not to be named and perhaps put it the most succinctly: "Not happening."
Go the link for more. Thanks Chris!