Mike Newell in Premiere Magazine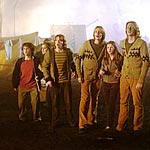 Dec 30, 2003
Uncategorized
Page sent us this bit from Premiere's February 2004 issue, from a section called "Year of the Director." Mike Newell made the list. Quotage:
"The tricky thing [with Mona Lisa Smile] was making a Julia Roberts movie at the same time that you were making an ensemble movie. You have a story in which an inspirational teacher comes in and affects the lives of her students. Well, we've seen that one before. But in this story, the students have an equal and opposite effect on the inspirational teacher, so it's a two-way street."
On an unrelated note, thank you for all of the birthday wishes. I had a wonderful one, due in no small part to everyone who remembered.