Mike Newell in the NYT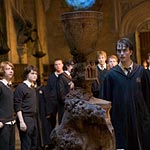 Dec 30, 2003
Uncategorized
An interview with Mike Newell appeared in the New York Times on December 16. (You might have to register to see it but it's' free and worth it.) Quotage:
On the cusp of his Harry Potter adventure, Mr. Newell knows that the new film is wholly different from anything he has tried before. The budget is much bigger ("you're making a film that costs roughly the equivalent of the gross national product of Guatemala," he said, although he cannily did not say how much that is); the special effects are dazzling; and then there is the matter of the eagle on the set, which is a revelation in itself, the size of a small city.

"I was standing in my office a couple of months ago and an eagle flew past the window," Mr. Newell related. "I said to the producer, `I think an eagle has just flown past the window.' He said, `Yes, yes – that's probably from the zoo.' "

"Which means that the enterprise is so vast that it's got its own zoo," Mr. Newell said. "If you want an animal, they'll just pop down and get you an animal. They have permanent owl residents, just in case you need one."
Thanks Sue!