On Richard Harris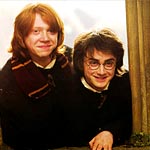 Jul 09, 2003
Richard Ouzounian of the Toronto Star talked to Richard Harris about his life and career in September 2001; when the interview was published, Ouzounian was told to "play up the Harry Potter angle and forget about the rest". In his just published book, Ouzounian recounts the entire interview.
Harris, suddenly tired, looked at me. "There, I gave you the stuff about Harry Potter. That's what the papers want. But try to use the rest of what I said as well.
"Because, you see, I don't just want to be remembered for being in those bloody films, and I'm afraid that's what going to happen to me."
Thanks to John for the link.