Percy Weasley: Death Eater?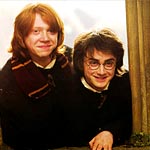 Feb 16, 2004
Uncategorized
In a new interview from Harry Potter Columbia, which is posted to Chris Rankin Online, actor Chris Rankin (Percy Weasley) talks about a variety of topics including his reaction to his character in Order of the Phoenix:
I think it's very interesting. I can't wait to see what happens to him in the 6th-because it could go both ways really-either he'll see the error of his ways and go running back to the family, or he'll go the whole hog and and become part of the Death Eaters (or something!).
Link courtesy of Veritaserum.