Columbus Leaving After Azkaban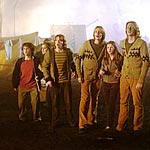 May 08, 2004
Uncategorized
Christopher Columbus, now producer on PoA, recently gave an interview to a group of journalists in which he said that Prisoner of Azkaban will be his last HP film, at least for a while. He is not involved in Goblet of Fire at all.
The first quote has just surfaced, in a magazine called Fantasy World; reader Amy has sent us the relevant text:
"In a surprise move of his own, Columbus will set sail for other cinematic pastures now that Azkaban is complete. Though Goblet of Fire is in pre-production, he isn't involved with the project. 'I'm history,' he reveals. 'I'm gone after this film. This is my swan song. I will not be among the producers on Goblet. I was in England for the first half of Azkaban, and although I went back to San Francisco, I was able to listen to the scoring and check the visual effects every day through the magic of computers. That's how I kept in touch with England. I also had people from my ocmpany working there. But everoyne at this point–after four-and-a-half years–really wants to come home. And I would feel wrong taking a producer credit [on Goblet] because I can't be there. I knew right around the time Alfonso was hired that this would be my list Harry Potter film for a while. I would love to come back and direct one more in the future, but for the time being this is my last one."
We wish him the best of luck, and thank him for his close attention and hard work on the first three films.