More Info about JKRowling.com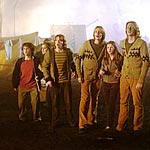 May 18, 2004
Uncategorized
We've received some expanded official info J.K. Rowling's involvement in the building of JKRowling.com:
We're delighted that you like the site and hope that you and your fan site regulars will enjoy it and have some fun with it, as that is very much JK Rowling's intention.

It was the idea of J K Rowling herself to use her official website – jkrowling.com – as a way of communicating with her readers, in her own words….

The wesbite design is based on JK Rowling's desk. She herself has had an enormous amount of input into the design and content of the site.
The site's been in the works for about a year.