Sunday Herald 3 Part Feature on POA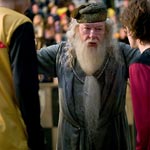 May 22, 2004
Uncategorized
The Sunday Herald has a 3 part feature on Harry Potter and the Prisoner of Azkaban.
Part One Overview article with an interview of Alfonso Cuaron:
"There's no sex in it, but Cuarón invites you to "read between the lines". And he seems to have shaped Rowling's big novel – the favourite of many Potter-heads, with its dark tone, muscular plot, likeable, ambiguous new characters Sirius Black (played by Gary Oldman) and Professor Lupin (David Thewlis), and shrieking scene-stealers The Dementors, who the author described as a "physical manifestation of depression" – down to the most tight, fluid and cinematic of the Harry Potter films. "
Part Two Daniel Radcliffe question and answer piece:
Do you have a girlfriend yet?
No, I don't. There are a whole load of girls that I really, really like but I haven't got a girlfriend as such. Yet. I get a lot of free time to relax, I get weekends and there is six months this time between the films. Apart from having to go back to school.
Part Three
A good interview with actor Gary Oldman about Sirius Black
Sirius is an ambiguous character …
I'm playing him as a bad guy and then you make that twist. It's a bit like playing Shakespeare. Shakespeare doesn't really write subtext, you play the subtext. You do it all in the line, I've not embellished it with a whole lot of psychology. It's a certain technique to playing it, a certain style. I appear, you think I'm the bad guy and through the course of the scene you realise, "oh he's not that". But when you see me, I have an energy and intensity and the audience, not being familiar with the book, would still think that I'm actually after Harry Potter and that I'm presumably in cahoots with Voldemort. I guess what I am saying is you play him as a good guy but he has been wrongfully accused and imprisoned.