UPDATE: London PoA Premiere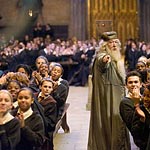 May 30, 2004
Uncategorized
CBBC Newsround now has their red-carpet report of today's Prisoner of Azkaban London premiere.
BBC News.com also has a report of the premiere, and video including a short interview with Daniel Radcliffe (at the link, click on right side under" watch and listen").
Update: An additional BBC News story has been added about the premiere including this from J.K. Rowling:
"JK Rowling enters – in a very glam green gown – looking utterly blown away by the reception."It's very easy when you're at home to kid yourself it's your own private little thing.
"Out there it's like The Beatles," she said. "