J.K. Rowling Confirms Title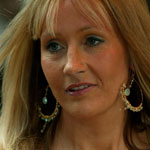 Jun 29, 2004
Uncategorized
As we said yesterday, the book six title is indeed behind the door on JKR's site.
It's official and right from the lady's mouth, from her News section.
There's a great and lengthy update about the sixth book and whether she'd hoax us all. (No, thank goodness.)
We're taking the spoiler warning off the title now (we're going to need to start referring to this a lot and now's as good a time as any), and posting it right here so close your eyes quick if you don't want to know: the title of book six is Harry Potter and the Half Blood Prince. Quotage from JKR:
"Information you take directly from this site will be truthful and accurate (I might occasionally joke, but as time goes on, you'll learn to tell when I'm joking). Do not trust anybody else claiming to have found information on this site that you cannot access, however seemingly convincing the images they provide to support their story…
Anyway: if you continue to exercise patience, you will find that the Do Not Disturb Door opens again… and again… giving you further hints about book six. But as a little bonus, and compensation for having been messed around by Mr. or Ms. Storgé, I shall tell you one thing without making you shift any bricks at all: the HBP is neither Harry nor Voldemort. And that's all I'm saying on THAT subject until the book's published."
It's worth noting that releasing this title has nothing, unfortunately, to do with book release date. She released the title for book five while doing press shortly after the release of Goblet of Fire – it was three years before we subsequently received the book.
By the way, the BBC has corrected their transcript of the interview in which JKR says this was a working title for Chamber of Secrets (it accidentally read "Half Loved Prince" before).
BBC Newsround and CNN have stories up.
(I'm also surprised to read that some people thought we made up the confirmation below – wow. No, guys, we don't make things up and never have. Sometimes we can't say exactly where things come from, but there are always good reasons for that; we wouldn't have posted that were we not sure, and I had six heart attacks trying to be sure I was sure.)
There are directions for getting behind the door here.
Have fun discussing the title in the comments; this post will shortly be added to our "permalinked" posts on the right sidebar, so discussion may continue after the news cycle ends.