GoF Pensieve Scene Report on HP4U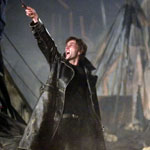 Aug 27, 2004
Uncategorized
HP4U has posted a report from the set of the upcoming Goblet of Fire film. There are descriptions of the set used in the Pensieve scene with Karkaroff.
"Wow, I wish you could all get a picture of it, words cannot describe the effect.Made of course to look as though Harry has gone back in time, imagine Dickens and all those old bookshops, or Ollivanders, stacked full of items, this is the effect of the court, full, stacked with mountains of papers!.The artwork and set decoration of the court room is immense, it looks ancient, Byzantium times, the old ruined golden paintings and the realism was great."
To read the entire report, at the link, click on "News"(left side) and scroll down. Spoilers. Thanks Pauline!