New Brooms for Goblet of Fire Film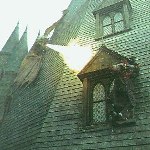 Oct 08, 2004
Uncategorized
The BBC has an article about Warner Brothers ordering 80 new brooms for use in the upcoming Goblet of Fire film. Traditional Besom Brooms, a family- run company which makes the handcrafted hazel and birch brooms, has been around for 300 years. Sue Nash, widow of the late owner, Arthur Nash, was delighted at the prospect of their brooms being used in the new Potter film.
"Arthur would have been so pleased – he was not very impressed with the brooms they used in the other (Harry Potter) films.
Thanks to everyone who sent this in!