BBC Reviews PoA DVD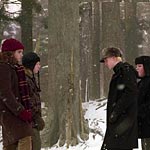 Oct 11, 2004
Uncategorized
Lizo Mzimba of the BBC took a sneak peek at the PoA DVD, and his very in-depth review is now up on the Newsround site. It includes a very close-up look, deleted scene by deleted scene, interview by interview. Quotage:
The ground of how the first three films have reached the screen is covered well. And there are a few gems of information for hardcore fans. Stuart Craig shows us a map of Hogwarts that J K Rowling drew for him when the first movie was being planned, showing how she sees the exact position of the castle, the forest, the Quidditch pitch, Hagrid's Hut etc. Alfonso again talks about how he planned a scene in a Hogwarts graveyard, but that JK Rowling asked him not to include it because there was a graveyard somewhere else in the castle that we'd find out more about later. And JK Rowling mentions for the first time that when she was a teenager, she had a nightmare about 'hooded, gliding figures' which were part inspiration for the Dementors.
There's also a news story here.
How many days until the release again?