GoF Visual Effects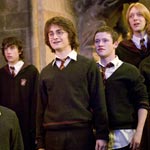 Oct 12, 2004
Uncategorized
Australian company Rising Sun Pictures has signed on to create visual effects for the film Harry Potter and the Goblet of Fire. Says the Sydney Morning Herald:
The film's centrepiece, a magical goblet surrounded by flames, is one of the complex images the company will construct before the film's completion next August.
The company has previously worked on such films as Sky Captain and the World of Tomorrow, The Last Samurai and The Lord of the Rings.
Note that the SMH now requires (free) registration upon repeated viewings.
Thanks to our many Leaky readers who emailed this link!