GOF Film News: Franz Ferdinand to play Weird Sisters Band?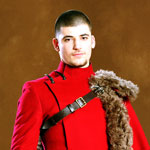 Oct 13, 2004
Uncategorized
UK group Franz Ferdinand has reportedly been asked to write some music for the upcoming Harry Potter and the Goblet of Fire film. In NME magazine, singer Alex Kapranos is quoted as saying:
"We've been asked to write some music. There's a section where there's a band of ugly sisters playing and I think, well…some members of Franz Ferdinand may be the ugly sisters in the band…There's an excitement and innocence about those films. I like how there's good and evil, and that's a clarity which is quite refreshing."
Thanks Ceri!