HPCast Members: "Movers and Shakers "of British Film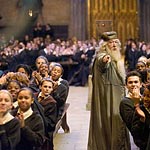 Oct 18, 2004
Uncategorized
The Times of London has a short list of "the movers and the shakers who have transformed the fortunes of the national treasure that is British Film." Included on that list is "feisty and intelligent" Emma Watson (Hermione Granger):
Emma Watson, 14, heads up the girls' team in a wave of gifted British child actors. Harry Potter co-star Daniel Radcliffe has grown into his role, but Watson's Hermione has the edge, with her signature brand of feisty intelligence. Wish them luck as they negotiate the perilous step to adult stardom.
Also on the list is Toby Jones,the voice of Dobby the House Elf.
Thanks to John from HarryPotterIntl.com for the tip!