New Forbes List: Harry Potter 4th Fictional Character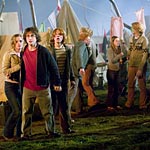 Oct 22, 2004
Uncategorized
In another list from Forbes Magazine, this time of "Top-Earning Fictional Characters", Harry Potter is ranked 4th with earnings of $2.8 billion dollars. According to this story from the BBC, to be included on this list,"characters must have debuted in a narrative story on screen, in print or in a videogame." The top 3 money earning characters were Mickey Mouse & Friends, Winnie the Pooh & Friends, and Frodo Baggins, Lord of the Rings.
Says Forbes:
"Harry Potter
Income: 2.8 Billion
Creator: J.K. Rowling
Birth Date: 1998
Debut Role: Harry Potter and the Sorcerer's Stone, a book
Known Associates: Hermione Granger, Ron Weasley
Bringing in more than $500 million in video game sales alone, this wizard-to-be has earned himself a spot on our list for the second year in a row. On and off the Quidditch field, Harry Potter is truly multidimensional–with fans in love with his books, movies, videogames and merchandise, Potter's creator, J.K. Rowling, earned an estimated $147 million last year and has a net worth of $1 billion, becoming the first author to qualify for a spot on our world's billionaire list (No. 552) based only on earnings from their writing.
Coming Attraction: Harry Potter and the Prisoner of Azkaban on DVD & VHS (November 2004)
Cashing In: Scholastic, Bloomsbury Publishing, Warner Bros. Entertainment, Mattel, J.K.Rowling"
Thanks Peter!