"The Directors" Documentary Feature on Chris Columbus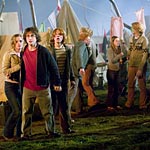 Oct 29, 2004
Uncategorized
"The Directors", a critically acclaimed documentary series, will feature Harry Potter director Chris Columbus. Airing November 6th on Encore, part of the Starz! cable film channel, this one hour show on the director will feature interviews and clips from the first two Harry Potter films, as well as information about his newest production "Rent." A press release had this about the show:
"The Directors episode features clips from Columbus's films Harry Potter and the Sorcerer's Stone, Harry Potter and the Chamber of Secrets, Nine Months, Home Alone, Home Alone 2: Lost in New York, Mrs. Doubtfire, Adventures in Babysitting, Stepmom, and Rent, his latest production. The segment includes extensive exclusive chats with Columbus, plus interviews with Robin Williams, Sally Field, Daniel Radcliffe, and others."
Again, this show will air on Encore Saturday November 6th at 11:00 AM(est).