Brief Harry Mentions in Psychology Today Magazine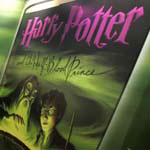 Nov 10, 2004
Uncategorized
Harry Potter was referenced twice in the October 2004 issue of Psychology Today:
1. "Taking Liberties"
A wheelchair-bound soccer referee. A blind woman who can teach home
economics. A disabled woman who can't dial the phone, but can read Harry Potter in Dutch. The arresting new film Freedom Machines explores how technology, such as the stair-climbing wheelchair and voice-recognition software, is helping 54 million Americans who are disabled to live independent fulfilling lives. Freedom Machines airs Sept. 14 on PBS.
2. "Suburban Warrior Syndrome" By Ethan Gilsdof
"From The Matrix to Harry Potter, heroic fantasy is hot stuff. These modern epics tap into our frustrated impulse to be the 21st century knights–and may even help unleash the workday hero inside each of us."
The article continues: "…Nine out of the top 10 all-time, worldwide movie box-office kings are Lord of the Rings- or Harry Potter-based. Last year, J.K. Rowling's Harry Potter and the Order of the Phoenix sold 12.2 million copies to become the biggest selling book in the U.S. in 2003."
Thanks to HauntedDreams for the info and the excerpts.