GoF Set Visit and Photo of Nightime Quidditch World Cup Scene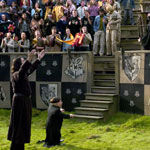 Nov 10, 2004
The Snitch.co.uk has a new set report and a very cool photo from the latest filming for the upcoming Harry Potter and the Goblet of Fire film. The report says:
" Just a quick line to let you know that generators, smoke machines, flame generators and massive sodium lamps have been burning long into the night this week on the Leavesden back lot Quidditch World Cup camp site set.

Filming was taking place on the very edge of the set tonight (Weds 10/11/04) and it was a generally held opinion amongst those watching that Harry, Ron & Hermione could all be seen in action running through smoking and flaming tents! "
We can confirm that this filming was going on, but this opinion about who was on set is incorrect. Of the three only Daniel Radcliffe was filming on Wednesday evening.
The photo is of what appears to be the nightime mayhem at the Quidditch World Cup campsite. Click here, then on the image. Please note that it took some time for the photo to load.