Prisoner of Azkaban DVD News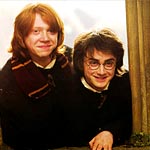 Nov 12, 2004
Uncategorized
Today there is some news about the soon to be released Harry Potter and the Prisoner of Azkaban DVD. First, IGN has posted their review of the disc. Scoring it an 8 out 10 overall, the highest marks went for the audio and sound.
"The dynamic range is rich and wide. The house shudders during the Quidditch game (in a driving rain storm) and when the Dementors attacked the Hogwarts Express. There's excellent positional audio and fully immersive surround sound in places like Hogsmead and the Great Hall."
As for the extras on Disc 2, IGN gave it a 8 out of 10 rating as well.
"Under Divination there are three film goodies. Trelawney's Crystal Ball has three unfinished scenes, where some blue screen can be seen. None were a big loss. Creating the Vision is a 12-minute segment discussing the film adaptations of all three movies, including Cuaron and Rowling sitting together for an interview. Head to Shrunken Head is a number of cast and crew interviews, running 43 minutes total."
Also, Row M has posted pictures of the DVD, including ones of the back cover of the disc, and the two discs themselves. There are photos as well of the two inserts included, which are a Marauders Map type of scene index and a catalog for the Harry Potter Noble Collection.
The Prisoner of Azkaban DVD is released on November 19th in the UK, and on November 23rd here in the US.