DVD Town Review of Prisoner of Azkaban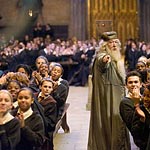 Nov 14, 2004
Uncategorized
DVD Town has posted their review of the Harry Potter and the Prisoner of Azkaban DVD. In a longer piece, the reviewer has much to say not only about the new look of the 3rd film, but the story as well.
"I enjoyed the first two "Potters," mind you, but I thought they were mostly about special effects, the wonders of visual excitement, more than about story or characters. They were, in effect, cute and fun and delightful to look at.

This third, 2003 release in the series, "Harry Potter and the Prisoner of Azkaban," is much more ominous and much more grown-up, so to speak, than the first two. That said, I wish it had more of a story to it. But that deficiency might be laid at the doorstep of the book's author, J.K. Rowling. She had certainly blossomed as a writer by the third "Potter" installment, but she still tended to be rather unfocused in her plot line, as the movie demonstrates, and wordier than ever, which the movie improves upon. Still, it takes well over two hours to tell very little tale. Yet the tone, mood, and atmosphere in number three are so much more imaginatively serious, even Hogwarts and its surroundings looking and feeling different, that it more than makes up for the thin plot. What's more, the three youngsters have matured and become better actors, delivering more authoritative and realistic performances."
The reviewer ultimately liked the 3rd film better than its predecesors, giving kudos to the new look, acting, and special effects, yet said that Azkaban "feels rather unfinished and, ultimately, unfulfilling." The review continues:
"As I said before, I still think this latest "Potter" is the best so far, but I have to say it still feels more than a little flat. The pacing is certainly one culprit, as the story doesn't really go very quickly in any particular direction; but also I attribute the story's lackadaisical nature to the fact that it has so little to say beyond a few character discoveries. The first two movies, while less developed in style and tone, told self-contained stories. They stood on their own. This latest one feels more like a brief anecdote than a fully evolved narrative; it's like a chapter in a book rather than a complete novel. Blame this on the author, not the movie, however. Rowling was merely continuing the series with another episode in Harry's life of chronically dire predicaments and baleful scrapes. I had the feeling as the movie was going on and again when it was over that while a lot of action occurred, nothing much actually happened."
The review did give its higher marks for the video and audio, and slightly lower scores of 7 out of 10 for the extras and film value.