King: Potter is for Grown-Ups, You Dweebs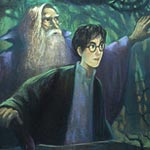 Nov 14, 2004
Uncategorized
The November 19 edition of Entertainment Weekly contains another bit of HP-championing by one of the series' most famous fans, thriller mastermind Stephen King. King has been very vocal about his love for Potter, and very eloquent about it – and this time is no different:
"I'm thankful that 'Jonathan Strange & Mr. Norrell', by Susanna Clarke, was almost as good as its lyrical first reviews…but it's not Harry Potter for grown-ups, as so many of them said. Harry Potter is Harry Potter for grown-ups, you dweebs."
We could not possibly say it better. Thanks Amy, for the tip!