Chris Rankin to Attend PoA DVD Launch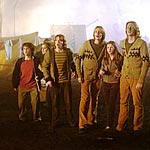 Nov 16, 2004
Uncategorized
Actor Chris Rankin(Percy Weasley) has posted on his website that he will be attending the launch of the Prisoner of Azkaban DVD on Thursday, November 18th. As we told you previously, the launch will be attended by many HP film cast members, and will be held at The Honourable Society of Middle Temple in London, England. Chris also confirms his upcoming appearance on the UK television program " Ministry of Mayhem". Chris writes:
I know i don't usually post my own front-page updates, but I thought I'd do this before I forget!

First of all, The DVD launch for Harry Potter and the Prisoner of Azkaban is on Thursday night, and I'll be there for a good night out! Photos to follow!

Secondly, for those of you in the UK – watch out for The Weasley family (myself included) on Ministry of Mayhem on Saturday morning on ITV – promises to be an interesting time!!