Goldenberg to Write Script for OotP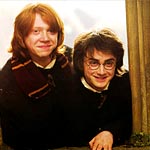 Nov 17, 2004
Uncategorized
HP Executive Producer David Heyman told a group of reporters, incluing TLC and MuggleNet, a week ago that writer Michael Goldenberg (Peter Pan) will pen the script for Order of the Phoenix. Heyman says Steve Kloves, who adapted the first four films, made the decision to move on completely on his own, in order to adapt and direct The Curious Incident of the Dog in the Night-Time, based on the best-selling (and absolutely beautiful, in this editor's opinion) novel by Mark Haddon.
Heyman also said a director announcement for Order of the Phoenix could come as soon as the end of the year, and that the fifth movie would start shooting in early 2006 with a tentative 2007 release date.
November 17: The Hollywood Reporter is now reporting this news as well.