Harry Potter Cast Members Support Big Book Auction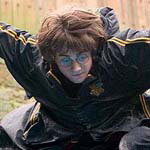 Nov 17, 2004
Uncategorized
Actors from the Harry Potter films are once again lending their support to charity. Cast members have donated their signatures and a book for "The Big Book Auction" with proceeds going to LEPRA, a UK medical charity which helps fight leprosy and HIV/AIDS world wide. Contributing to this auction which starts today on Ebay are:
Daniel Radcliffe(Harry Potter)who donated this "Catcher in the Rye",as well as a signed photo.
Alan Rickman(Prof. Snape) who signed a new journal in which he wrote "my favourite book- a blank one.. "
Robbie Coltrane(Hagrid) who donated "Careless Love" a book about Elvis Presley, as well as a signed photo.
Emma Thompson(Prof. Trelawney) who donated "Persuasion" by Jane Austen
Zoe Wanamaker(Madam Hooch) who donated "Zen in the Art of Archery"
Stephen Fry, who narrates the UK audio versions of the HP books, donated "Blandings Castle" as well as a signed photo.
Each item is autographed by the contributing actor. The auction runs until Nov. 27th. Thanks Jason!