PoA DVD Launch Party Reports Round-Up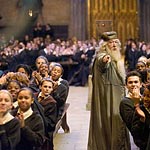 Nov 18, 2004
Lots of press attended the DVD launch party tonight. Wire Image has photos from the event (TLC no longer supports or links to to Getty Images, who also has pictures from the event, because of the disdain they have showed Potter sites of late who have displayed their branded images. We believe the fans are more than up to making up the difference).
Also check out HarryLovesHermione.com, EmmaWatson-Fans.com, London Features International, DanRadcliffe.com and Dan Radcliffe.co.uk (whose images, we've been informed are being hosted on HPANA) for more. (Thank you to the many readers keeping us up to date on all the image surfacings!)
Also, thanks to HPANA for alerting us to this ExtraTV video of the event.
CBBC Newsround has posted several stories from tonight's Prisoner of Azkaban DVD launch party:
Many of the cast attended, and Rupert Grint and Emma Watson talked about the upcoming Goblet of Fire movie which they are currently filming.
Rupert told us: "We're about halfway through filming now, it's going really well. In this one you've got the Yule Ball, where we all have to find partners so that will be quite interesting. And I have to wear these horrible dress robes for the ball so I'm not really looking forward to that."

Emma told Newsround that she was learning new skills for Hermione for the next movie – learning to dance! "And it's not just normal dancing, I'm talking the tango, the foxtrot, waltzing, it's quite impressive," she laughed.
TLC also attended tonights party and will have our own report and pictures soon!