Rumour: Franz Ferdinand Band NOT in GoF?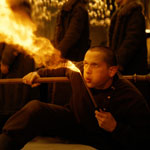 Nov 18, 2004
Uncategorized
Today , British tabloid The Mirror is saying that Scottish group Franz Ferdinand would not be appearing in the upcoming Goblet of Fire afterall. Previously the band had said that they were to appear as the Weird Sisters group for the Yule Ball scene in the next Potter film. However, the newspaper is quoting the band's spokesperson as saying:
"There was a bit of a row, that's normal. They can't make the film because of scheduling."
Jonas, from HP-Fans.de also let us know about a report on German MTV that said not only will Franz Ferdinand NOT be in the Goblet of Fire film, but the parts would instead be performed by Radiohead's Jonny Greenwood and Jarvis Cocker.
Franz Ferdinand cancelled their roles in the upcoming Harry Potter movie Harry Potter and the Goblet of Fire. Alex, Bob, Paul and Nick were planned to play a guest role as a band named the 'Wyrd Witches'. British newspaper Mirror reports that the tensions in the band, which caused arguments between Alex and Nick this week, were the cause for this decision. But a spokesperson of the band demented: 'There has been a little argument, that's normal. They can't act in the movie because they don't have the time for that.' The role of the 'Wyrd Witches' will now be played by Radiohead members Jonny Greenwood and Jarvis Cocker."
Thanks Jonas!