Muggle Rides Knight Bus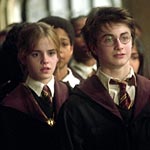 Nov 19, 2004
Uncategorized
A muggle reporter for The Telegraph was able to hop a ride on The Knight Bus and has a fun story about his adventures.
Standing in front, the headlights give the impression that they're coming to get you. Its eyes, reminiscent of Herbie Goes Bananas, look cheekily uncooperative. The air is thick with magic and, when the photographer's flash starts misbehaving, I'm reminded that a muggle's place is not so near the Knight Bus.
The article goes on to talk about the filming of The Knight Bus scenes for the Harry Potter and the Prisoner of Azkaban movie.
In the film, the bus is doing approximately 35mph, weaving in between oncoming cars travelling at 10mph.

"We had 30 stunt drivers," says stunt co-ordinator Greg Powell, "all of them the best in the business, and we recorded about four times as much footage as made it into the film." Those unseen sequences, included on the DVD extras disc, show the bus appearing to spin out of control after a handbrake turn at Bankside in London and a much-extended chase.

"It was probably the most expensive night sequence ever shot in London," says Powell, "and planning it took a lot of time and practice. Dinky cars look good on the floor, but when you get out on the streets with the real thing there are always adjustments to be made, especially when the bus tends to drift. But we managed to do everything we were asked to do."
Thanks to Wizard News for the link!