TLC PoA DVD Launch Party Report Part I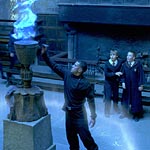 Nov 19, 2004
Uncategorized
By Melissa Anelli for TLC

The
invite
said it well enough. An accordion Marauder's Map, the first words inside read,
"Daylight will throw more light on a night time encounter," mysterious words that should have been clue enough that we should expect something thrilling.
It started with the soft drinks,
which came in potions-worthy beakers and silver goblets, colored bright cheery
reds and sickly yellows, some fizzy and some overflowing with blackberries.
Early in the evening, we waited in a small anteroom for the Knight Bus to arrive,
already aware that a party in true Hogwarts style was in store.
The Society of the Middle Temple is one of those large sprawling places that under even normal circumstances would be believable as a Hogwartsian landscape. The internal ceilings are
vaulted, the stained glass incredibly intricate, the walls paneled with rich
wood and everything else distinguished and proper. And last night, with what
the Warner Brothers crew did to it, it looks like Hogwarts itself.
After
6 p.m., we were shuffled out of the small green room and down to a vast viewing
space, under a starry-skied
pocket of an awning to await the Knight
Bus' arrival in the smoky,
fluorescent, and at that point extremely wet and cold clearing. When the
Knight
Bus did come into view, headlights ablaze and looking on the edge of toppling
as always, it circled around the square a few times to the loud and dramatic
swells of the Prisoner of Azkaban soundtrack. Dan, Emma and Rupert
waved from the back-end pole, and finally de-bused to greet the press.
The rest of the cast poured out of a side door, right past a random guy smoking
chestnuts and roasting marshmallows over an open flame, and did the pose-for-pictures,
answer-questions thing they do so well. I was not stationed with the general
press, but did manage to pull David Heyman aside for a short word about Michael
Goldenberg and his upcoming adaptation of Harry Potter and the Order of
the Phoenix. (Transcript tomorrow.) I also heard (but am not sure if I
caught it on tape) Alfonso Cuaron telling reporters that he advised Mike Newell
that the best thing he can do on a Potter film is to be sure to pace
him
self.
Wet, cold, and shivering, we abandoned the rest of the formal interview time,
ran inside at the very first opportunity and joined the general party. The main
room had been transformed into a Great Hall on one end (complete with a Dumbledore's
chair and a high table full of once-real, now-placquered food), a Defense
Against the Dark Arts classroom on one side and Honeydukes Sweets Shop at the
far end. Chocolate ran in torrents at the most frequented spot of the night,
what I liked to call the Fondue
Fountain. Dishes of marshmallows and strawberries disappeared at lightning
speed as attendees grouped around, spearing and dipping them into the seemingly
endless stream of confection.
The
Honeydukes station featured, among other things, an actual head-sized sugar calaveras,
the Mexican confection
that
Alfonso Cuaron sprinkled all over the shop to add a spice of his homeland. Happy
plump witches and wizards handed out bags full of ice mice, fizzy lollies,
jelly snakes and skeletons, marshmallow shrunken heads, and chocolate coins.
Straight-from-the-set slabs
of coconut ice and jars of small candies decorated the
station. (The shopkeepers insisted that those candies were not real but
I witnessed many happily munching on the set dressings.) Also imported from
the set was one of my favorite things from Honeydukes, as noted in last year's
set report: Clippy's
Clip Joint.
Tucked behind the bar, next to a jar with a skeleton standing straight up inside
it, and a large metal hand with a snake for one finger (you can understand why
I almost missed this) was probably the coolest set piece I've ever come across.
The
boggart closet. Jamie Waylett (Vincent Crabbe) snuck up behind me while
I stared at it and asked what my biggest fear was; though I hadn't a clue, I
did half-expect it to come bursting out of the door and lunge at me.
Another thing I expected to lunge at me was the giant
jack-in-the-box clown, one of the boggart shapes from Prisoner of Azkaban.
I couldn't decide if it was more or less freaky just sitting there (instead of see-sawing menacingly like in the film).
The party took up a whole floor of the place, and since most of the outdoor
activities had to be corralled under ceilings because of the rain, the place
was so packed it was hard to move. Costumed
characters roamed, doing magic tricks and just generally playing with guests.
In the concave portions of the grand hallways, portraits
came alive. Party crew gave out cozy Gryffindor scarves and blinking neon
wands (sort of Star Wars meets Harry Potter).
One small room was swathed in soft red tapestries and furnished in small round
poufs, clearly the Divination room. Stacks of crystal balls lined the walls
and sat on tables, teacups
awaited their use as portent-dreg holders, and off in a shadowy corner a
fortune teller turned Tarot cards for attendees' amusements. Computers also
featured the Prisoner of Azkaban game, where it seems you can play
as any of the trio and Hermione has oddly blonde hair.
Next door, a room similarly Divination-dressed was set apart for cast and their
family and friends. A handwriting
analyst pored over signatures all night long, deducing house placement through
them; most came away calling him incredibly scary and frighteningly accurate.
He told Matthew Lewis that the shape of his "M"s means he should continue
to be an actor (only he used lines and squiggles and some sort of upward-slanting
proof to come to this conclusion) and that he'd be awaiting his Oscar win. Chris
Rankin has cusp Ravenclaw-Gryffindor handwriting. After a tussle between Gryffindor
and Ravenclaw, he declared me a clever eagle (much to my delight, because Matthew
Lewis had declared in his new Oscar-winning confidence that my handwriting said
I was, for sure, a Slytherin. I was very happy to give him the eagle-eye).
Once everyone got situated and comfortable and had explored the grand settings,
the evening became mirthful and relaxed. For more about the cast, including
pics and interviews, check back tomorrow!