Sunday Telegraph: Underwater Filming at Leavesden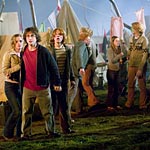 Nov 20, 2004
Uncategorized
The Sunday Telegraph quotes David Heyman from the DVD launch talking about some of the tremendous sets from Azkaban:
"We have had to build a dedicated tank which was incredibly involved, but I think it will look spectacular," he said.
Filming has taken place in short bursts, with divers supplying oxygen to actors Daniel Radcliffe, Emma Watson and Rupert Grint.
Thanks Mago for the link!