Video From PoA DVD Launch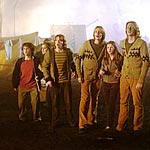 Nov 20, 2004
Uncategorized
Reuters has a video segment of the Prisoner of Azkaban DVD launch in London. There is video of the trio arriving on the Knight Bus, and some scenes from inside the party. The Hogwarts choir sings a bit of "Toil and Trouble", then there are soundbites with Daniel Radcliffe, Emma Watson, and Alfonso Cuaron. Finally there is a clip of the Knight Bus scene from the film.
Update: Click here to watch-video should start right up.
Update: TLC reader Connie let us know that USA Today has a similar video feature. Click here, then scroll down on right hand side to where it says
"Video: Harry Potter's New DVD", then click to watch. Note a commercial airs before the Harry Potter segment. Thanks Connie!