Slide, Step 1-2-3: Dance lessons for Harry Potter Cast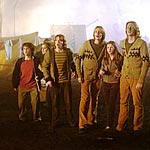 Nov 21, 2004
Uncategorized
Actor Jamie Waylett(Vincent Crabbe) has a new entry on his website where he lets know more about the DVD launch party in London. Just like fellow castmember Bonnie Wright(see below) Jamie mentions as well the rehearsals for a scene in the upcoming Goblet of Fire movie. The Yule Ball scenes are about to be filmed, and he has been in dance practice for it.
We're still filming but this week and next we have dance lessons for the Yule Ball. I'm learning to waltz and after four days I'm getting better. I've been paired up with a really pretty girl for the ball (we thought for a while my partner was going to be Goyle!!!), and she's a dancer so she's teaching me. I've been told I'm 'light on my feet' – imagine Crabbe, light on his feet!!
Check out Jamie's newly redesigned site as well!