Chris Rankin: Percy Not In GoF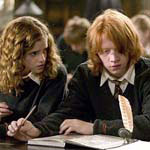 Nov 22, 2004
Uncategorized
In a new interview with BBC Norfolk, actor Chris Rankin reinforces what he had said previously, that his character of Percy Weasley would not be in the upcoming Goblet of Fire film.
"Because Percy has always been a minor principal and his storyline doesn't generally affect the main three characters, they've taken the decision to leave Percy in the dressing room for this film," said Chris. They don't finish filming until next March, so anything could happen- but from what I'm gathering, and that I haven't seen a script or a shooting schedule, Percy won't be around for GOF," he added
Chris goes on to talk about the possibility of returning for the film version of Harry Potter and the Order of the Phoenix .
Your contract is for the Prisoner of Azkaban plus one other, are you hoping Order Of The Phoenix is when Percy returns?

"It would be nice to do OOTP, simply because Percy is such an arse in it.
He's disowned his family and knowing my penchant for playing villains, it would be nice to come back and play the bad guy. There's the scene with Percy at the beginning of the book where Harry is trialed for doing magic and the scene where Dumbledore is arrested about three quarters of the way through. We shall wait and see."
Chris talks more as well about the PoA DVD launch that was held last week in London. He talks about the party and the deleted scenes included on the PoA DVD. Click here to read the entire interview.