Exclusive: GoF Casting Update, First Pic of Angelina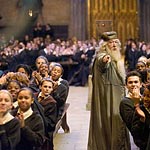 Nov 22, 2004
Uncategorized
A signed first edition of Harry Potter and the Goblet of Fire is currently going on eBay for more than 750 GBP, as first reported by Veritaserum.
The book is signed by many GoF cast members, including some names that have not yet been confirmed for GoF.
We can exclusively confirm that these names are accurate as GoF cast members. Our trusted sources also provided a few more names. The following people are playing the following parts.
Tiana Benjamin as Angelina Johnson. (See the first available picture of her here.)
William Melling as Nigel, a first-year (this actor has no relation to Harry Melling, who plays Dudley)
Tolga Safer as Karkaroff's Aide (this is not, as rumored, Tolga Kenan, who is and has been Harry's stunt double).
Louis Doyle as Ernie McMillan (who reprises his role from Harry Potter and the Chamber of Secrets)
The following will also appear in GoF:
Henry Lloyd-Hughes as Roger Davies (who in the book attends the ball with Fleur)
Charlotte Skeoch, reprising her role as Hannah Abbot from Harry Potter and the Chamber of Secrets
Robert Wilfort as "Bozo Photographer"
While WB has not officially confirmed these, TLC has never in its history said something was confirmed without meaning it. We are not treating this as a rumor.