Canadian" ETalk Daily" Interview with Harry Potter Cast Members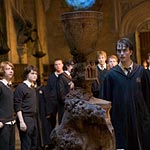 Nov 23, 2004
Uncategorized
Veritaserum has posted a video and transcript of interviews done with Harry Potter cast members at last weeks PoA DVD launch party in London, England. Canadian televison program ETalk Daily spoke with actors Rupert Grint, Emma Watson, David Thewlis, and Tom Felton at the party. Several of these actors were asked about their characters and what should happen to them in future Harry Potter books.
Rupert Grint: "I wanted to play Quidditch once. Dan said it's really painful. Apparently in the fifth one (OOTP) Ron actually plays Quidditch, so that'll be cool."

Emma Watson: "I'd quite like to see Ron and Hermione together. It's gotta happen. You know, it's there!"

Tom Felton: "Epic battle at the end of the last book. Me and Harry one on one, swords in hand or something. I wouldn't mind going out in a blaze."
Click here to read the entire transcript and see the video. Thanks to Veritaserum!
The Harry Potter and the Prisoner of Azkaban DVD and Video was released today here in the US and Canada.