Philospher's Stone on TV on Xmas Day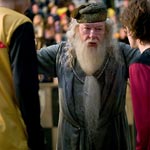 Nov 24, 2004
Uncategorized
Harry Potter and the Philosopher's Stone will get its terrestrial debut on BBC One this Christmas. No word yet on whether there will be any deleted scenes interspersed into the showing, though we'll try to find out. Festive thanks to Peter for letting us know!
And Maelle also let us know that French channel TF1 will also be showing the film during the Christmas holidays. Festivity for everyone!
Editor Sue pops in to add that Harry Potter and the Sorcerer's Stone will air here in the US on Sunday, December 19th at 6pm(est) and again at 9pm on ABC's Family channel as part of the "25 Days of Christmas" programming. It's a Very Harry Holiday for all!
Update Geraldine from Universharrypotter.com wrote it to say that the film will actually be seen on French channel France 2
Also Karen and ras wrote in to say that the Philosopher's Stone film was being shown on Australian televison(Channel Nine) this Saturday, November 27th at 7:30pm. Happy Harry Holidays everyone!