Isaacs Doing "Spit and a Cough" in Goblet of Fire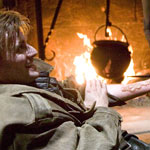 Nov 26, 2004
Uncategorized
Jason Isaacs (Lucius Malfoy) recently sent a note to his fans at the Unofficial Jason Isaacs Page in which he mentioned his filming on Harry Potter and the Goblet of Fire, which probably means the filming of the graveyard scene will take place in February:
"Like I said, I'm doing a spit and a cough in Harry Potter in February. For the Potter fans you'll remember that Lucius is only on 2 pages of the book so, proportionately, I'm barely in the film but I wasn't going to miss the chance to wear my Pamela Anderson wig again. If only to make sure that I can remember the voice for number five."
The site is also currently running this year's Holiday Charity Drive benefiting the St. Jude's Children's Hospital. You can make donations right to St. Jude from that link.
Thanks so much Martyne!