Rumor: Half -Blood Prince Release Date Announcement in January?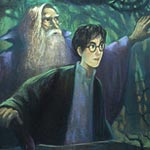 Nov 27, 2004
Uncategorized
We at Leaky receive many rumors about possible release dates for Harry Potter and the Half-Blood Prince, the sixth book in the Harry Potter series. The latest rumor about a possible announcement of a release date for this book comes from someone who works at Waldenbooks, who says a flier was sent out to employees of the store mentioning the newest Harry Potter book on the front page. This memo said:
"The book world is abuzz with rumors that J.K. Rowling may announce the publication date for Harry Potter and the Half-Blood Prince, the 6th book in the Harry Potter series, sometime in January.

While that's all we know so far, we want to be ready so that we can start communicating with our customers as soon as the announcement occurs!
PLEASE NOTE: This is still a RUMOR. Before the announcement of Order of the Phoenix's release date, we got many rumors such as these, all of which turned out false. Our sources say that the level of secrecy involved in the announcement of the release date rarely, if ever, extends to something as widely distributed as bookstore memos. This info is kept very close to the chest of the HP publishing world – you could probably count on one hand how many people would know that an announcement was coming in January, at this point, if it were – and none of those people would contact a fan site about it. But we will of course keep you updated with more on this when we can.