Australian Bonus PoA DVD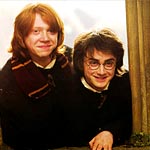 Nov 28, 2004
Uncategorized
Several readers have let us know that with today's Australian Sun-Herald newspaper, there was a free promotional bonus Prisoner of Azkaban DVD. TLC reader Vicki reports that this bonus DVD includes the International trailer, "The making of" special that aired on television, scenes from the movie, and some additional behind the scenes footage. There are cast and crew interviews from some of the actors, well as director Alfonso Cuaron, and Producer Chris Columbus. Veritaserum now has up some transcripts from these interviews which you can read here. Click below for the highlights!:
Chris Columbus – Producer
ON HARRY BEING REBELLIOUS
I think it's interesting to see Harry dealing with that sense of rebellion. He's not going to take it anymore, he is not going to put up with the rules Uncle Vernon has sort of set in stone in the house. And what I loved, there was a line that was cut from the script that I loved, when Harry said to Uncle Vernon, "I'm tired of living by other people's rules." And I thought that was the heart of the film, I thought that, that's exactly what it means to be a teenager. You know, it's like those great rock 'n' role songs from the sixties – "it's my life, you can't tell me what to do." That's what I loved about this book and what I loved about what Alfonso did with it – it's that sense of rebellion. When he walks out of the Dursley house at the beginning of the movie, that's pretty powerful. The fact that he's taken a stand and he's walking away from this nonsense. You realize that you're in a different world now, these aren't kids anymore.


Tom Felton – Draco Malfoy
ON HIS CHARACTER
Well, Draco himself has matured (slightly). He's still very a annoying, frustrating, little child. I think because of the scene in the second film where my dad and I are in Borgin and Burkes, which got cut out in the final cut, but I think it explains a lot why Draco is acting like this to people who have popularity or people who have better things than him and such. I think during the film, he just opens up more and more about how and why he is like this. It's a good never-ending story why Draco is like how he is.

Rupert Grint – Ron Weasley
ON THE WHOMPING WILLOW STUNTS
That was one of my favourite scenes. When we did this scene, they had me all padded up and I was padded up with a harness on my leg and they attached all this like bungy rope stuff. And all the stunt guys were pulling me from the tree, and they dragged me into the tree and it was really fun.
Thanks to Vicki and all who emailed, and to Veritaserum!