J.K. Rowling's "Big Issue"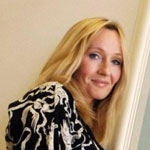 Nov 28, 2004
Uncategorized
J.K. Rowling is lending her name to charity once again. In a fund-raising effort called "What's Your Big Issue?", the Harry Potter author is donating a specially designed t- shirt for auction. This unique t-shirt, among many donated by celebrities, will be autographed and designed to highlight an issue that is important to each contributor. The Big Issue Foundation, a charity that helps support the homeless, will receive the profits from this auction on eBay which starts tomorrow, Monday, November 29th.
Other people donating shirts to this auction for charity are Harry Potter actress Emma Thompson, and UK audio book narrator Stephen Fry, as well as musician Ringo Starr, and UK Prime Minister Tony Blair.
UPDATE: The auction is now open and runs through Dec. 3rd (ends at 5pm GMT).
J.K. Rowling's t-shirt reads "End Child Poverty" and you can see it here.
Actress Emma Thompson's t-shirt highlights HIV/AIDS and you can see it here.
Stephen Frey's t-shirt is also about AIDS which you can see here.