Rupert Grint: One of England's 16 Best and Brightest Teens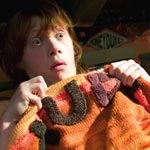 Nov 28, 2004
Uncategorized
The Guardian newspaper has an article listing 16 of England's best and brightest 16 year olds, and actor Rupert Grint (Ron Weasley) is on that list. The article notes how the young actor saw that they were casting for the first Potter film, and put together a video of himself acting and rapping, which lead to Rupert getting his first film role at age 11. Harry Potter producer David Heyman is quoted as saying of Rupert Grint:
'Success has not gone to his head. He is a natural comedian, and his future is what he makes of it. There will always be a need for actors of his great instinct and talent.'
Rupert Grint says:
'I hope to carry on playing Ron and to get the opportunity to do more comedy. I'd also love to play a villain at some point.'

Being 16: best thing:
'I'm a year closer to being able to drive. I've finished school, so don't have any more homework.'

… and worst thing:
'Shaving. Having to think of smart things to say in interviews like this!'

His 16th birthday:
'I was filming the latest Harry Potter in Oxford and had a huge cake and BBQ with cast and crew.'
Thanks to RupertGrint.net!